the evil skwerrel police impersonator!
my good friends and fellow dog blogging warriors
akira and shiro
just sent me the skariest news i haf seen in a while. be warned this is not for puppies...
apparently there is a skwerrel master of disgizes who dresses up as all sorts of unnatural things to weasel his way into the hearts and minds of unsuspecking peepol.
he even goes so far as to impersonate an officer of the law! who knows wut wicked things he does with the power of the police!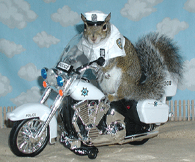 http://www.sugarbushsquirrel.com/642907.html
so beware peepol! beware dogs! if you are going for a ride-in-the-car and you see blue flashing lights behind you... look closer! make sure there is no fuzzy tail or beady little eyes staring back at you from the rear view mirror!
thank you akira and shiro. you are true supporters of the cause.